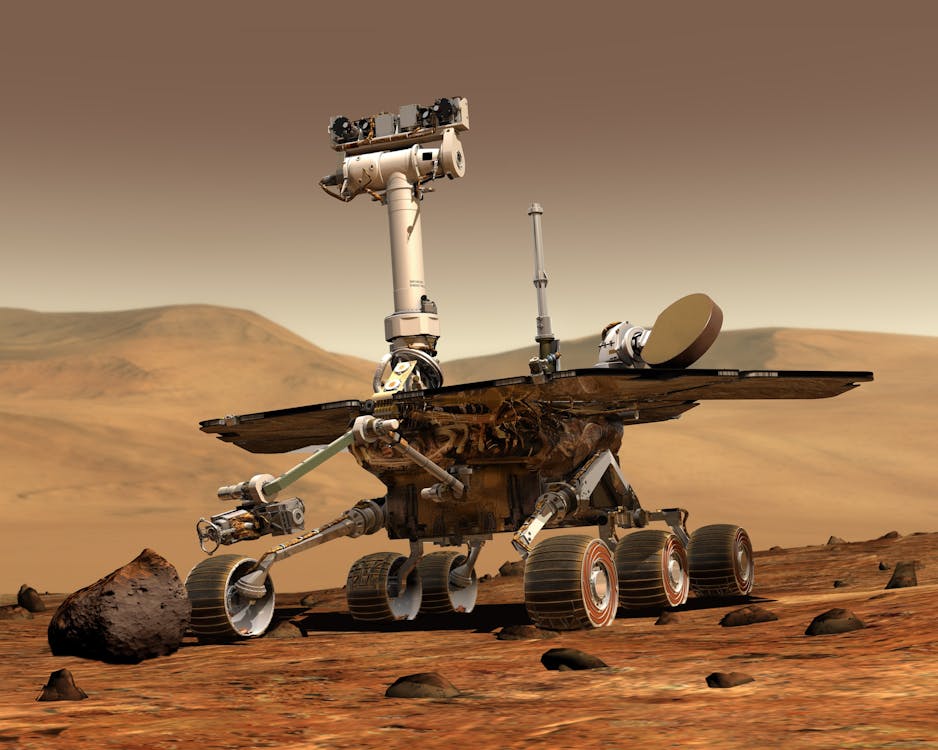 The large distance between the Earth and Mars makes direct and instantaneous communication with the rover impossible. It takes between 3 and 22 minutes to transmit a signal to the rover, depending on the position of Mars in relation to the Earth. The success of this mission was made possible in part by the use of an artificial intelligence system called "Terrain Related Navigation (TRN)". Its role is to assist the rover throughout the descent to land accurately and avoid dangerous terrain (3).
During the previous Apollo lunar landings, the astronauts would set a landmark for the landing. Then during the final descent, the crew would adjust the trajectory of the module by eye, through the window, in order to avoid craters and rocky fields and land safely. It is in particular in this way that on July 20, 1969 Neil Armstrong manually landed Eagle, the first lunar lander with crew. He landed it on the lunar surface after the automated systems had directed the spacecraft to a landing site that was too dangerous in the "Sea of Tranquility"(6). The difference between the terms "automatic" and "autonomous" is fundamental, as we discussed in our article "Autonomy of AI: Can we really talk about it?". Nowadays, on-board computers, sensors, and powerful AI systems can reinforce human capabilities. They allow to navigate and to make landings like the successful one of Perseverance. The question remains to verify that these systems are safe enough.
The TRN artificial intelligence systems, also called Landing Vision System (LVS), provide position measurements relative to known landmarks on the surface to augment inertial navigation(4). During its descent to the landing site, the Perseverance rover was equipped with a camera, allowing it to take images and analyze them in real time. These images were then correlated, thanks to LIDAR (Light Detection and Ranging) technology, to the map of the landing site that the rover had on board. This was done in order to recognize the location of the rover during its descent thanks to computer vision algorithms.
By comparing the images taken by the camera with those of the on-board map, the Terrain Related Navigation (TRN) automatically corrected the landing trajectory in order to complete the mission.
The goal was to prevent the rover from heading towards a dangerous obstacle, as there are many on the Jezero crater (landing site): steep cliffs, sand dunes, rocky fields. In case of danger, the system was able to trigger retro-rockets to move and avoid it. Thanks to TRN, the rover was able to estimate its location and correct its position relative to the ground with an accuracy of 40 meters (5).